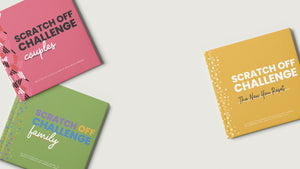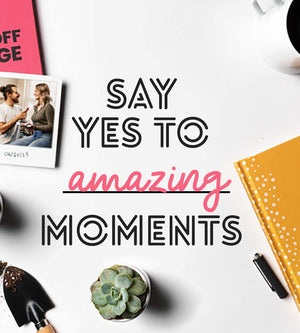 Say "YES" to Amazing Moments
How Project YES Works
Scratch to Start
Pull out a coin or key (or dentures, no judgment here) and scratch away. Our creative challenges are like lotto tickets of fun activities. all you have to do is pick one, scratch off the foil to reveal the exciting details underneath, and then do what it says!
Take the Fun Challenge
All of our themed challenges are built with fun in mind. Some are simple, some are complex, some will leave you laughing for hours, and some will have you saying "awwwwweeee." No matter the creative challenge ahead, you're in for some certifiable fun.
Savor the Memories
Whether it is a photo on your phone you print off, a drawing, some notes, or a little scrapbooking, all of our books are meant to memorialize the moment. Your teacher told you never to write in your books, but these books are meant to be played with!
we dare you
to say "yes!"
Your friends will be envious of all your new unforgettable moments.
★★★★★

Bought this and hurried to buy another for friends..well made and so fun to fulfill ❤️

Kori Miller
★★★★★

Every time we scratch a page, we laugh! My family is having a blast with this book. A great family fun way to end a crazy year!! Thank you

Ms. Lacy
★★★★★

I had the best time with my boyfriend exploring these challenges together ❤

Nicole
★★★★★

My young adult married kids and 17 year old had a great time with these (Christmas) activities. I also got one for my little nieces. Great activities for all ages.

TB
★★★★★

This has some really good dates in it! We have been married 20 years and this was still fun!

Kristi Gilstrap